Events schadule
The Torioi festival
---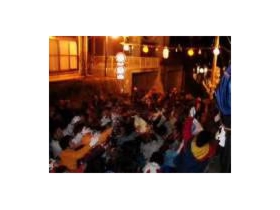 This annual event is held on January 14th. It is thought that through this festival, crops are protected from damage due to insects and birds. Participants walk around town drumming, ringing bells, and singing "
tori oida tori oida
..." and people pick up oranges and other goods thrown from shops. The Don-Don-Yaki is held one day before this festival at the Sawatari Shrine.
The festival of Renge-no-sato
---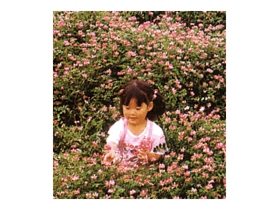 This annual event is held on the second Saturday in May. On the road to Sawatari Onsen, rice fields are full of
renge
(lotus flowers) at Shimo-Yamada. Various events are held here such as flea markets, fishing, sing-alongs, tea ceremony, and
shishimai
(the Lion Dance). The lotus flowers are at their best during the first weeks of May.
Nakanojo Gion
---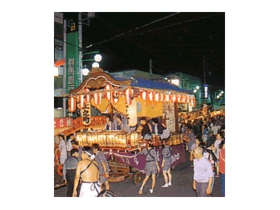 This annual event is held on August first. It is a traditional summer festival designed to blow away the heat of summer. The restive horse and
mikoshi
(portable shrines) lead the procession, and the
dashi
(floats) compete for magnificence as they are led about the town. The lively musical accompaniment is a great addition.
Naknojo Biennale
---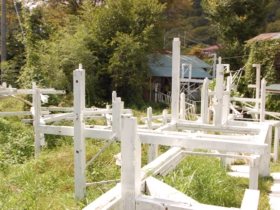 This event is held from late August to mid-September every two years. It is a huge event full of art from Nakanojo. Over 300 works are displayed from six regional areas and 30 smaller spots all around Nakanojo. There are works of all different kinds.
Bokusui festival
---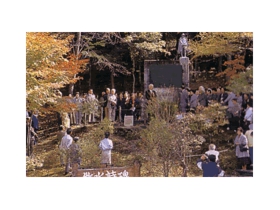 This annual event is held on October 20th. The poet Bokusui Wakayama wrote "Kareha no Uta" at the Kuresaka Pass when he passed through Sawatari on his way from Kusatsu on this day in the Taisho period. Participants memorialize this day, and the Society for Preservation erected a monument inscribed with Bokusui's poem. Around the time of the festival, the Kuresaka Pass is colored with red leaves of larches and broad-leaf trees. There is a service in which bowls of
nameko
(butterscotch mushroom) miso soup are given out free to tourists.
Imonikai
---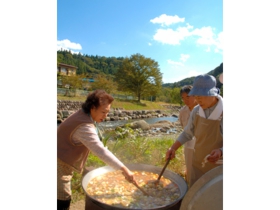 This annual event happens in mid-October. The senior club of Arikasa is central in bringing about this event. They plant the seeds of taro in spring. They use taro freshly dug before the festival day. They boil 30kg of taro to feed approximately 300 attendees. It is a great chance for tourists to interact with the locals.
空室問い合わせ
旅館検索
まちなかリレーマラソン
忍者ウォーク
スパトレイル