Easily experience
Pottery
10 minutes from Sawatari you can experience making pottery at Nakanojo Gardens. You can hand-shape a mug or cup. There are eight different courses where you can learn to make 13 works in all. You can enjoy making pottery like a pro. Contact Mizuno-san at Togeikan at 0279-66-2231.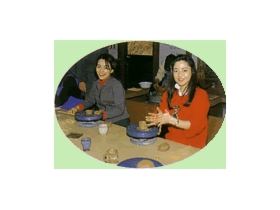 Also, from September to November you can enjoy apple picking at a nearby apple orchard.
---
Tea tasting at Shirakubo
A tea tasting named Ochako is held on the 24th of February every year to celebrate the night festival at Shirakubo Tenma Shrine. This is a unique event where participants must drink one of four kinds of tea and guess which one it was by taste. This event is held by the Ochako Preservation Society. Anywhere from 15 to 40 people can take part. The event's fee is 30,000 yen. For more information, contact Machida-san of the Ochako Preservation Society at 0279-66-1922. Alternatively, you can try contacting the Nakanojo Museum at 0279-75-1922.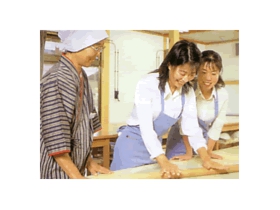 Japanese soba-making
When traveling from Shibukawa to Nakanojo on route 353, you will see Mt. Takeyama. There is a road station named Reizan Takeyama at the foot of this mountain. You can have the experience of making Japanese soba there. The fee for one table,which can seat up to four persons, is 2500 yen. The soba can be cooked by a nearby restaurant, so you can eat your handmade soba fresh. How about trying hand-made soba?
Contact Reizan Takeyama at 0279-66-7280.
空室問い合わせ
旅館検索
まちなかリレーマラソン
忍者ウォーク
スパトレイル