Fragrant with the smell of onsen
Quiet and relaxing
Once you've tried the cuisine and enjoyed a bath here, you are sure to want to visit again. Long-term lodgers are welcome, as are women staying alone. This inn's onsen is recommended as a free-flowing onsen near to the source. Stay for a long time to enhance the benefits of the onsen.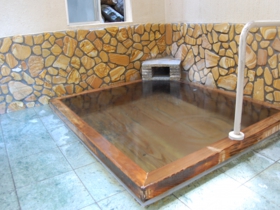 There are never more than 10 guests staying here at a time, with no parties of tourists, so this inn is a quiet and relaxing place.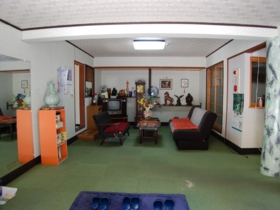 Extensive lobby
A quaint old-style TV and a large grandfather clock are located in the lobby making a nice atmosphere for a chat with the friendly inn-keeper. There are books you can borrow and a massage chair you can use. 70% of guests are regular customers, and most guests stay long-term. Lodging and breakfast starts from 5200 yen - a good low price for long-term lodgers. The fee for lodging only is 4000 yen per person.





Information
---
Check in at 12:00 pm check out at 10:00am
Reservation by make a phone call of FAX

Room rates:
One night with breakfast and dinner 6000 yen - 8000 yen (Those staying alone pay 7000)
Long-term lodging from 6000 yen (For more than two persons in a room)
One night and breakfast 5200 yen (plus a local tax of 100 yen)
There are no special fees for summer or New Year's holiday periods. This inn's prices never change.

Phone 0279(66)2331 FAX 0279(66)2946
Web sight http://www.spa-marufuku.com
2318 Kamisawatari Nakanojo Agatsuma Gunma Japan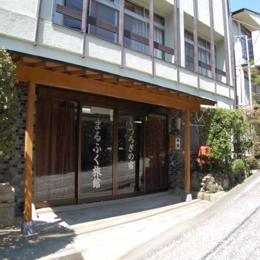 空室問い合わせ
旅館検索
まちなかリレーマラソン
忍者ウォーク
スパトレイル