The inn with substantial facilities, a reservable open-air bath, and elevator.
Popular reservable open-air bath
There are many baths at Miyataya, a large bath for men and a separate large bath for women, separate open-air baths, reservable smaller baths for families, and a reservable open-air bath. The guest rooms have southern exposure and get good light. The inn is situated on the Sawatari highland. It is a quiet location, perfect for listening to birdsong.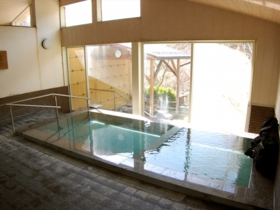 This inn is easily accessible for those who are physically challenged. There are few steps, and the ramps, bath, hallways, and elevator are equipped with handrails.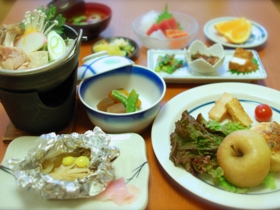 Local ingredients, taste the seasons
Meals are produced using local ingredients. Especially, the wild vegetables in spring like deep-fried fuki (butterbur) blossoms, or eggs mixed with fresh warabi (fernbrake). They grow some ingredients themselves, such as autumn mushrooms nameko (butterscotch mushrooms) and hiratake (oyster mushrooms).





Information
---
Check in from 3PM and check out by 10AM (earlier check-ins available, inquire during reservation).
Lodging charge: starting from 7980 yen (with a light meal, please see website for details).
Facilities: party room, reservable bath, free Wi-Fi, and more.


Phone 0279(66)2231
Web sght http://miyataya.skr.jp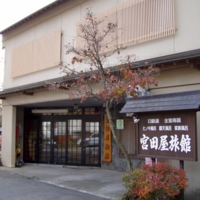 空室問い合わせ
旅館検索
まちなかリレーマラソン
忍者ウォーク
スパトレイル